Monday, June 30, 2008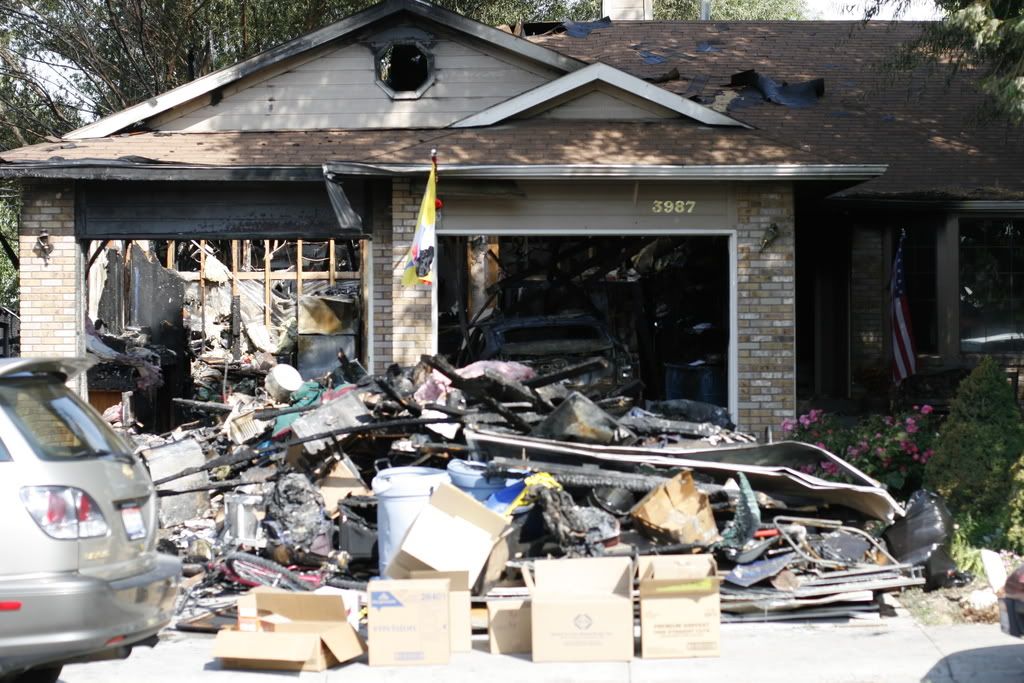 Late Sunday evening Ben and I were returning home after having dinner and playing games with some friends, and the phone rang. My mom in hysterics was saying to call the Glover's immediately. Thinking the worst, I hurried and wrote the number down. She then proceeded to tell me that everyone is okay but the Glover's house burnt down. I yelled up at Ben, he ran down and I told him the news, we were in shock. The fire started around 5pm and they were trying to get a hold of us all evening. Since we forgot our cell phones no one could find us. Ben headed over around 11pm to try and be of help or support and found his house in ruins. The fire was started by an old propane tank leak that was on the side of their home. They were sitting in their living room when they heard a terrible hissing sound. Ken opened up the back door and noticed the tank. It then exploded. We are very lucky he is still alive and with no injuries. Karen and Kelsey jumped up to call 911 and get the fire extinguisher. The fire spread so fast they realized it was beyond them and ran out of the house. Ken ran back in to try and save a few items. Luckily he came out safe again and they stood across the street and watched their house shoot up in flames. This has just been so devastating for all of us. We were over there all day today trying to help were we could. The kids were so upset. E would not even come into the house and kept crying to go home. It was just too scary. D was very sad but did not want to leave when my mom came and got the kids. It is so sad to see all of their belongings ruined, but we are so blessed that everyone is okay. I took some pictures to show Candi, Natalie, Aimee, and others who could not be here to witness it. You can see them
HERE
.
3 comments:
Tammy, Candi forwarded me your site. I am just in shock at this. My heart is breaking for Ken and Karen, but also all you kids & grandkids. Please let everyone know they are in our thoughts and prayers. We are thankful everyone made it out saftley.
Much love,
Allison
What a sad thing to experience! I am so sorry for Ben and his family. Glad no one got hurt, but what a devastation to occur!
The Hallberg family is so sad for you guys!!! We heard about it through Julie - our prayers are with you and your family!!
Post a Comment
Blog Archive